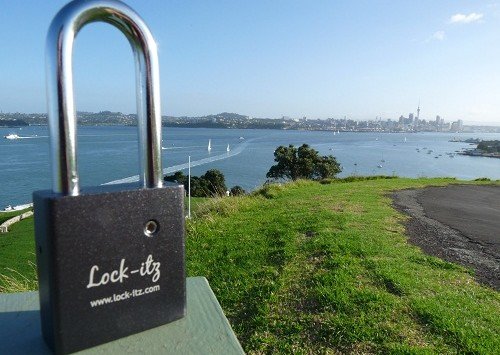 By lockitz
/
/
/
1949 Views
/
One of the inspirations for selling love locks that started for us back 2011 our the stories behind the locks. Each day we engrave personal messages of love.
Today I received a lovely email from one of  our customers explaining the "
42
" engraved under her and her husbands names.
What a Valentine treat!
Please read on….
"The story of the number 42 on our lock began 28 years ago back in 1990. My husband and I met in the 8th grade and became best friends before eventually discovering we had deeper feelings for one another and making that big adolescent leap into boyfriend/girlfriend land. We were only 14 years old so we felt embarrassed for others to hear us say the words "I love you" to one another when getting off the phone, or walking to our next class, etc. so we came up with a code. When we'd say 42 it meant we were saying I love you. It has stuck with us all these years later…although we of course say the actual words most of the time, a "42" will still sneak out now and then. Our birthdays are only 16 days apart and we are both turning 42 years old this April. I'm excited to give him this personalized lock for his birthday and to surprise him with a trip to the Old Red Bridge in Kansas City, to place our love lock there forever. After 28 years of friendship, almost 22 years of marriage, and 4 beautiful daughters, we are still very much in love. I thank you again for your kindness and I hope you have a wonderful Valentine's Day. I can't wait to see the product! "

Please feel free to share your story.
Continue reading...